How to Choose The Best Refrigerator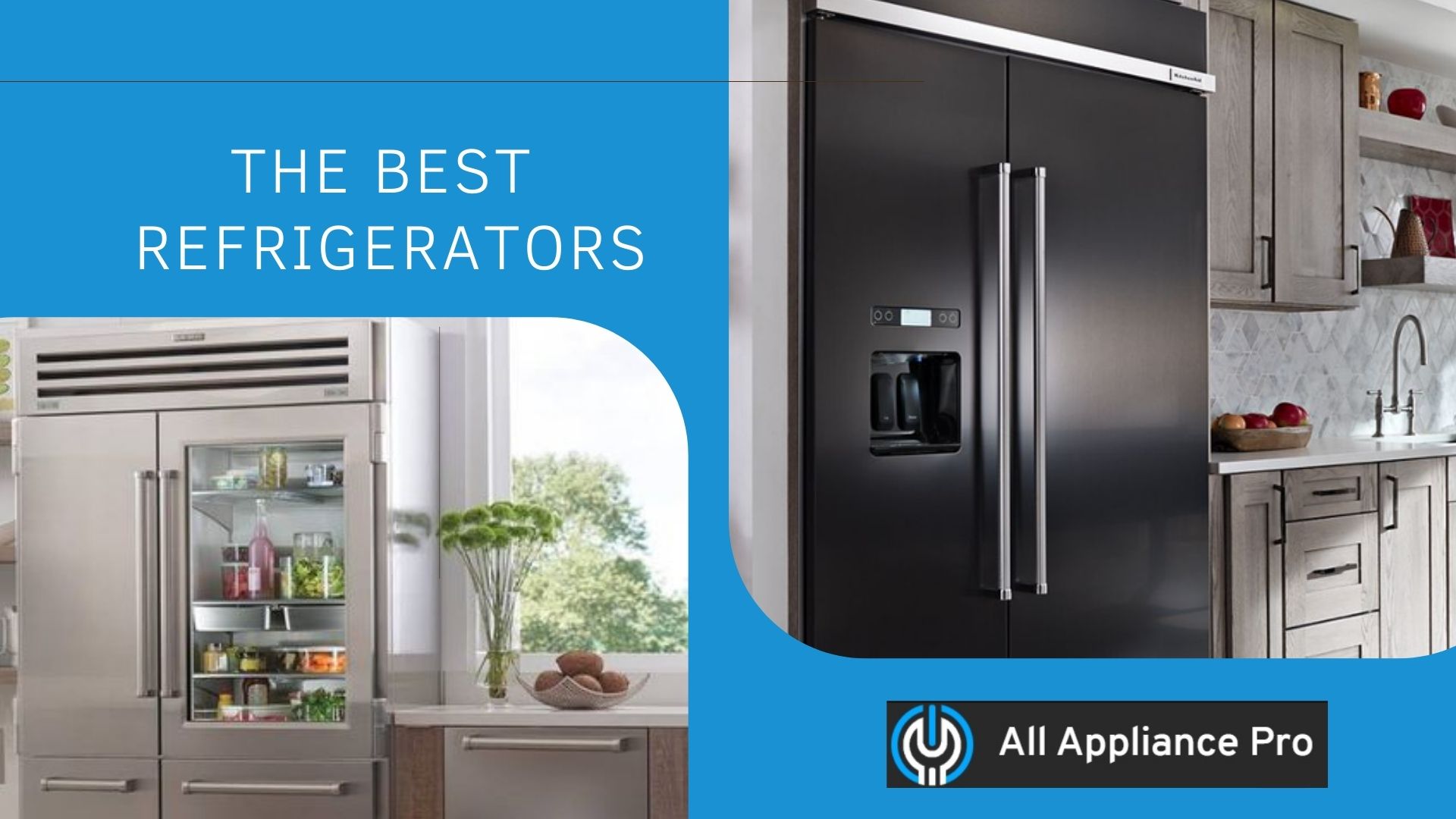 Best Refrigerators
Explore the best and most reliable fridge brands and the top 10 best refrigerators for you and your family.
How to Choose The Best Refrigerator?
Is your refrigerator broken? Do not worry! Now there is a huge number of both budget refrigerators and expensive equipped models that are suitable for any buyer. Explore the criteria to help you choose a refrigerator and look through the top 10 best refrigerators that will help you to decide what to buy.
How to Choose Top Rated Refrigerators
A broken refrigerator is not the most pleasant surprise for each of us, as it is of the most expensive home appliances. While many people replace the refrigerator with a new one only in the case of a breakdown, this is not the best option. Believe it or not, it will surely break at the least opportune moment when your family can't afford to buy a new one. Thus, events such as buying a refrigerator are best planned in advance.
It's also worth remembering that a new good-looking refrigerator can increase the value of your home if you're going to sell it. That is why it is important to study the characteristics and choose a refrigerator that meets all your requirements.
However, it can be very difficult to find the right refrigerator model for yourself, since not everyone is well versed in home appliances. Since there are so many features, sizes and materials, you will probably need some help to decide what to buy and pay attention to. Moreover, in addition to its appearance, it should have excellent functionality and work long and well.
So, if you need help choosing a refrigerator, you've come to the right place. In this article, you will find the criteria for choosing a refrigerator, as well as various price categories that will allow you to find an economical model if you do not have the money for an expensive one.
The Best Fridge Sizes and Fridge Styles 
So, if you have absolutely no idea where to start when choosing a new refrigerator, there are two main factors to consider first: size and style. Once you understand this, you can go deeper into the rest of the details and functions that you need.
Fridge Sizes
The first thing to consider when choosing a refrigerator is size. Typically, refrigerators come in two depths: standard and counter. However, what's the difference?
Standard depth is the most common design among buyers, but if aesthetic appearance is important to you, then it is worth noting that counter depth is more pleasant looking (usually because these refrigerators are fit flush with cabinets). Counter-depth models are of course more expensive.
However, it should be noted that counter-depth is still cheaper than, for example, a built-in refrigerator. Thus, counter-depth is in the middle price category and is relevant for most buyers who want to buy a built-in, but do not have enough funds.
Also, besides height and width, take a look at measurements. You might not know, but refrigerators are measured in cubic feet to indicate the amount of storage inside. Thus, decide how much space you need before considering a particular model.
Fridge Styles
Often, there are three main types of refrigerators: top-mounted freezer, side-by-side and bottom-mounted freezer (the latter includes the French door).
So, a refrigerator with a top-mounted freezer, as the name suggests, has the freezer section on top. As a rule, this type of refrigerator has a classic design and the most reasonable price. It is also worth paying attention to this particular type if you have a small kitchen, since such refrigerators are the smallest.
Side-by-side refrigerators have two long doors, the first for the freezer and the second for the fridge. This type of refrigerator has gained popularity among buyers as it provides convenient access to all items. However, such a fridge is not always suitable for wider items such as a food box.
The name bottom-mounted freezer also speaks for itself, since the freezer drawer sits on the bottom. If you need a large freezer, this type of refrigerator will be a great option for you. If you want the French door, then you should know that with basic finishes the price starts from 1000 dollars.
How to choose the best refrigerator brand for you?
If you have not previously bought a refrigerator yourself, or simply do not know where to start, pay attention to the criteria listed below. Since these are the main things to consider, you can quickly figure out everything and find the model you need for yourself.
Dimensions. As a rule, people choose the width of the refrigerator in accordance with the kitchen layout, as it often has to fit between counter space. It is also worth noting that if you want to buy built-ins or cabinet-depth models, then they should sit flush with counters and cabinets. Also pay attention to the price as they are more expensive.
Finishes. While everyone has their own opinion on finishes, stainless steel is still the most popular. Oftentimes, people choose stainless steel because it looks neutral. However, you should not be guided by everyone, since for some people the interior is an important part of their home and they prefer to see a white and sometimes even black refrigerator in the kitchen. Note that built-ins often offer exterior paneling so the refrigerator can be matched to your kitchen interior. If you want something special, then you should pay attention to those many modern finishes that are fingerprint-resistant.
Configuration. At the moment, there are several of the most popular models - top-freezers, bottom-freezers and side-by-sides. If you're looking for a less expensive model, top-freezer fridges are worth a look. However, while the price is an advantage, you will need to bend to get into the fridge, so it is not comfortable for everyone. Bottom-freezers are a more convenient option since the most-used compartment is located there at the eye level and it will not be difficult for you to take this or that product. Side-by-sides also have their advantages and disadvantages: while they require less space for the doors to swing open, you will need to bend down in order to grab the base of the fridge and freezer food. So here you will need to be based on your preference.
Other features. This is where you need to think about your own needs and the needs of your family. Perhaps you need adjustable shelving to store your various beverage bottles. Also, if you often order food at home, you probably need a refrigerator that can hold a large number of boxes. You may need a large freezer to store convenience foods and frozen foods. Please note that some refrigerators have humidity controls, so if you need it, take a look at this option. In general, think about what you expect from the refrigerator and write down your wishes so that you can find the right model.
Best Refrigerators to Buy by customer reviews
So, once you understand the basic characteristics, you can explore the best options that can be found on the market. You can now browse the main models considered Best Refrigerators in 2021 and decide which one is right for you.
---
---
---
---
---
Conclusion
By examining various criteria and the top 10 best refrigerators on the market, you will be able to choose the model that is relevant to you, your lifestyle and your needs. Also, you can always ask a consultant for help or look at the reviews in order to decide on a particular model. Both cheaper and more expensive models are now available, so you can choose the right one for you. Enjoy your shopping!